MCS Accredited Heat Pump Installers
Call 03456 46 11 46 for a FREE Survey & Quote!
Frequently Asked Questions
I want a Heat Pump how do I proceed?
Having a new air source heat pump installed should be as simple as 1,2,3! Here at AA Plumbing we strive to make the process as simple and convenient for you as possible.
1. Give us a call or email. We'll arrange with you to attend your property, assess your property, and discuss with you your requirements/vision for your new installation.
2. Using the information obtained in our assessment we will provide a detailed quotation for the planned installation and arrange a mutually suitable installation date.
3.Our installers will attend at the agreed time and day, install, commission and give a tutorial of your new heat pump.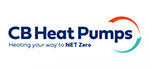 We have partnered with CB Heat Pumps to offer qualifying customers a £5,000 grant towards their new heat pump installation, through the governments boiler upgrade scheme.
What is a heat pump?
In simple terms, a heat pump is a device that transfers heat from a source (soil, water or air) to another location. Heat pumps use a small amount of electricity but often achieve a 200%-600% efficiency rate. The amount of heat produced is much higher than the energy consumed.
Air source heat pumps use the principles of vapour compression to generate heat. They use outdoor air to produce heat to your home. ASHPs consist of 4 major elements that allow the refrigerant to pass from the liquid form to gas: a compressor, a condenser, an expansion valve, and an evaporator.
When the refrigerant passes through the system, it absorbs the heat from the outside air. Then, the compressor increases the heat by increasing the pressure. In the condenser, this higher temperature heat is transferred to the heating and hot-water circuits of your home. After that, the medium temperature liquid flows into the expansion valve where upon the release of pressure, its temperature also drops. Finally, the now cooled down liquid is returned to absorb more heat from the air and repeat the process.
ASHPs can be used for heating water for domestic use, radiators, and underfloor heating. Such systems are called air-to-water heat pumps. If suddenly a large amount of hot water is needed, they are also equipped with an electrical resistance heating element that would supply additional heated water (at a lower efficiency rate, though).
Alternatively, air source systems can be used for heating and cooling the indoors air using air-to-air heat pumps. These work similarly to an air conditioning unit but can both heat and cool the house efficiently, adding tot he list of benefits of air-to-air systems
Why consider a heat pump?
Heat pumps are greener and cheaper.
Heat pumps do not require energy to cool or produce heat and are much more energy-efficient compared to conventional heating methods. A heat pump can generate three to five kilowatts of heat for each unit of energy it consumes. Since the heat pump burns no fossil fuel when producing heat, it generates far fewer greenhouse gas emissions than a conventional furnace. Additionally, heat pumps eliminate a potential source of carbon monoxide within your home.
What are the costs of a heat pump?
Installing and running costs of a heat pump will depend on several factors. These include the size of your home, insulation and the heating system you're planning to use. According to Energy Saving Trust (EST), air source heat pumps cost between £10,000 and £18,000 to buy and install.
Additonal savings can be made by taking advantage of the government incentive BUS (Boiler Upgrade Scheme), which can save you £5,000 on your upfront costs.
Do I need planning permission to have a heat pump installed?
As heat pumps usually fall into the category of favourable renewable energy, often there is no need for planning permissions. However, there are some exceptions to this rule.
What is the warranty period on heat pumps?
Heat pump systems normally have a warranty of 2 or 3 years with the option of extended warranty. For example, a warranty for the workmanship of the system usually lasts for about 10 years.
What is the average lifespan of a heat pump?
A heat pump's lifespan is approximately 15 years or more. With thorough maintenance, a heat pump's lifespan can range up to 50 years.
Are heat pumps noisy?
When heat pumps came to the market for the first time they were quite noisy and unappealing. Modern air source heat pumps use the latest in noise reduction technology and energy efficiency enhancement. So to bust this myth, the noise produced by a heat pump is around 40 decibels, which is the equivalent of a whisper.
Do heat pumps work in cold winters?
It is fair to assume that judging by the name, that heat pumps only work when its hot. This however is not the case, despite the name a heat pump doesn't need hot air to work, in fact all it needs is for the surrounding air to be above -26 degrees. That's right, even in weather as cold -26 degrees it'll work. Its no coincidence that a country as cold as Sweden has the highest percentage of heat pumps. It'd be pretty foolish of them to install one in almost every home if they didn't work in the cold.
Do heat pumps need to stay on all the time?
If your house has proper insulation and your Heat Pump is installed correctly you'll have the ability to turn it on and off whenever you find necessary. The difference is that heat pumps gradually heat your house meaning that you can keep your house at your desired temperature instead of your houses temperature constantly fluctuating.
Can heat pumps be installed in old buildings?
A Heat Pump can be installed in any property, from old victorian houses to brand new modern houses. No matter the property a heat pump can be fitted. Usually when it comes to older houses a heat loss report must be carried out and usually improvements on the house's insulation too.
Do heat pumps take up a lot of space?
Quite the contrary, since most of the components of a heat pump are hidden from view and the actual unit itself is outside. Heat pumps take up just as much space as a regular heating system. In fact compared to biomass it takes up no space at all.
Are heat pumps for heating only?
Heat pumps can be used for both heating and air conditioning. Heat pumps come equipped with a reversing valve, this means that the process is reversed. When turned, instead of heating it will cool instead. However this only applies to air to air heat pumps, not air to water heat pumps.
Will a heat pump save me money?
Heat Pumps can provide up to 60% savings on your heating bill. Another important factor to consider when evaluating the cost of an ASHP installation is the amount you can save right now! The Boiler Upgrade Scheme (BUS) is a government backed incentive that gives you an immediate £5,000 off your upfront costs. So not only are you upgrading your heating system but you are doing it at a massively discounted price!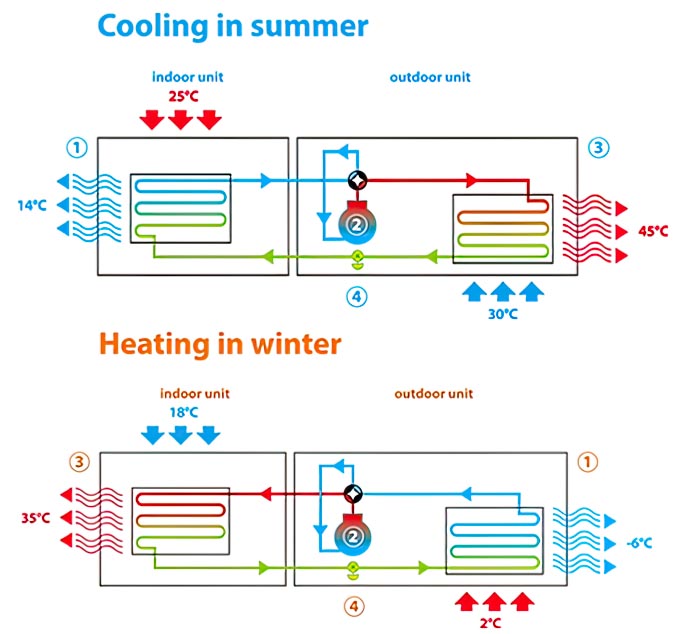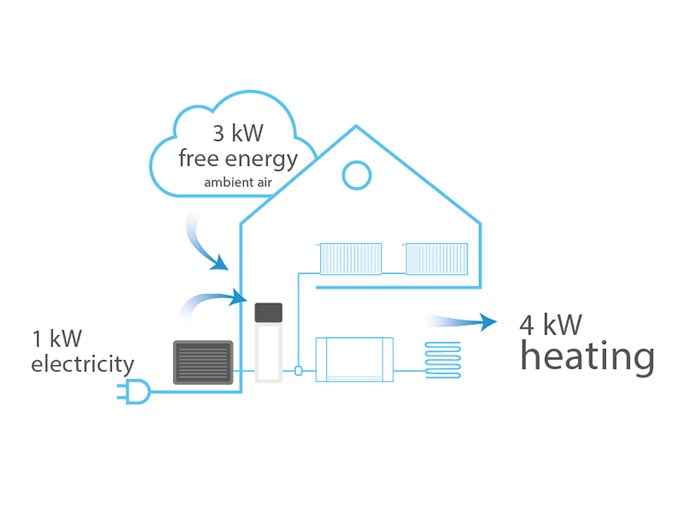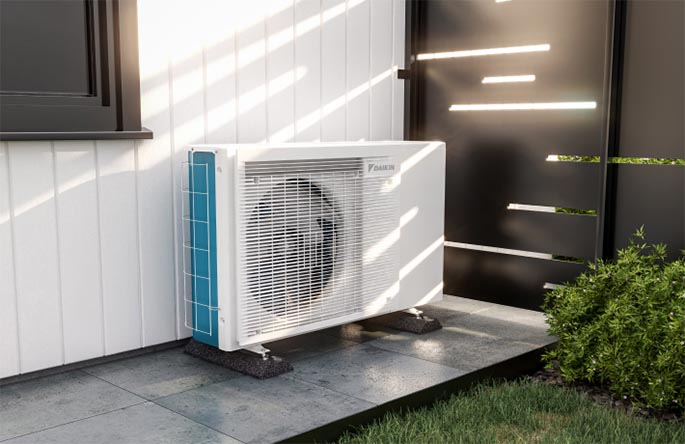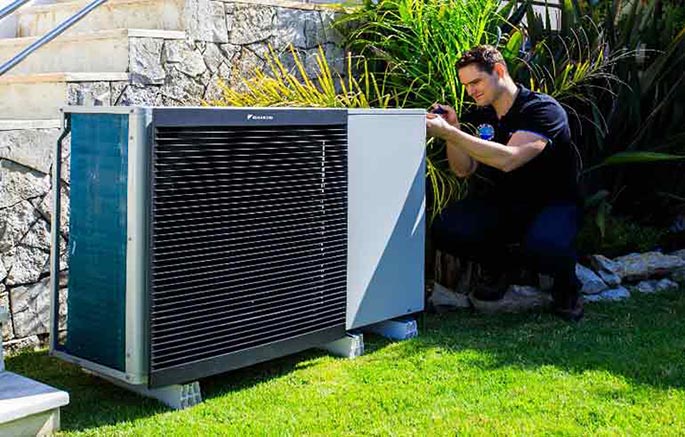 | | |
| --- | --- |
| | 12 Month Guarantee |


Cashless service

Pay securely on our website or via phone

Pre-book your appointment at your convenience
Great service as ever
Great service as ever
Mr Orchard
Really good service. Plumber...
Really good service. Plumber arrived
within timeframe, was a really nice
guy, did the work specified...
customer in Walthamstow
Always professional with rea...
Always professional with reasonable
rates. Good electronic invoicing
system as well. I love simplici...
Tom Sikorski
I had a gas leak in my kitch...
I had a gas leak in my kitchen so
wanted a professional company to find
the leak and fix it.
...
Tom
I was very pleased with the ...
I was very pleased with the plumbing
and tiling work done in our downstairs
shower room that I did n...
Stella
Oz at AA Plumbing is a joy t...
Oz at AA Plumbing is a joy to deal
with. He has been round to do a number
of jobs and he is always p...
Luba
AAPlumbing have given me exc...
AAPlumbing have given me excellent
service and I would recommend them
highly
Alan Baxter
I did not have much involvem...
I did not have much involvement with
the job in hand. It was explained to
me at the initial visit. I...
Anastasia Alura
A very competent and profess...
A very competent and professional team
of plumbers. We've been using them for
tenanted properties in...
Hanif B
AA Plumbing have given promp...
AA Plumbing have given prompt
attention to plumbing related problems
in our dental practice.
Bhikhu